This shot is the best of the lot and it still doesn't do the new shop justice (but tell me, can heaven really be captured by a camera?). But see those cute glass shades? The sumptuous bouquet? The toothsome pink and brown and spun-sugar white walls? The teeming crowds?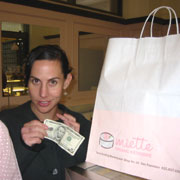 How is it that Liz looks so cute after not an ounce of sleep? Is it the money?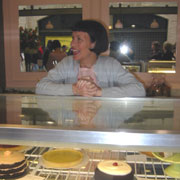 Caitlin (Cake-lin, haha) perched atop a bounty of cakes: the stuff of certain, very specific fetish dreams.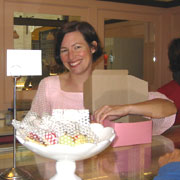 Apple-cheeked Megan and a bowl of the cutest iced pear cookies ever, a synergy of perfection.

Cute cakes deserve cute plates, fancy, spendy, heart-wrenchingly cute plates. (This is also true about love.)
Yay,
Miette
's booth in San Francisco's newly refurbished Ferry Building is now
OPEN
! Saturday was the very first day, and
Todd
, Adrienne, and I went down to coo and ah over the insanely fabulous setup (which
Liz
and her partners, Megan and Caitlin, have been slaving away on for months, and this whole last week pretty much 24-7).
It is all seriously beautiful, the vintage industrial refrigerator they resurfaced, the cases all bursting with scenic treats, the matchy bouquets of flowers, the shelves full of cookies, weekender cakes, homemade marmalade, and brain-burstingly cute birdy plates. So, so great … I am still very sore.
We hung out and snapped pictures and I bought my mom a triple-layer chocolate cake for her birthday (the best kind of gift, the kind I get to eat), Todd bought cookies to bring back to NY, and Adrienne got a cupcake, then we walked up Market Street to Ross Dress for Less to buy Todd a replacement for the suitcase my cat peed on (in her defense, the suitcase had been peed on before, at least a windbreaker that had once laid on top of said suitcase had been been peed on … cats sure have smart noses, and dumb, dumb pee-holes.)
In other exciting news (and just in time for the historic, histrionic election): I typed some of the words that appear in Cockeyed Rob's hard-hitting and really important piece, California in Crisis, which should clear up any questions you may have about this whole recall thing. I sure hope that helps.