I locked myself out of the apartment yesterday. Again. I think it's the dog that's doing it to me, all the hustle and rush and frantic jumping and wiggling that goes into getting her leash on frazzles my brain, which is plenty flighty to begin with, and I just completely forget to grab my keys, which are RIGHT THERE by the door, resting in their little wooden apple key holder.
Since Marco didn't get home from work until 4:30, and since the lock-out occurred circa 1:30, I had about three hours of alfresco time to kill. So I strolled to 7-11 and got a Slurpee, then I set up one of the beach chairs in the backyard and alternately dozed and read my sidekick (and made a huge dent in the mimi smartypants archives, what a sweet treat to discover someone whose writing and outlook you really adore and admire so much you just want to BITE ITS CHEEKS OFF, and then lo! You dig a little deeper and discover that there's also a fat, fat archive to binge through, yes!). Basically, aside from the fresh-air part, Locked Out Evany spent yesterday the exact same way Regular Evany did every other day this week: lounging, reading, and drooling. Which gave me some pause. Maybe it's time for me to for real start thinking about getting a job? You know, before I completely lose the ability to maintain consciousness for longer than three hours at a stretch? But oooh, my job muscle is going to be so SORE when I get to working again! Assuming there's even work out there for me to be found, ugh.
In lighter, brighter news, I just got back from yet another trip to New York, and this one was a lot, lot longer and funner than the two-day windsprint of early June. Aside from one harrowing reading (my favorite Todd invited me to do some slide-showing in June's How To Kick People show, and despite people's assurances that "[public appearing] is going to get easier," the stage terror seems to be holding steady … I blame it on the varied nature of the events I'm doing; each one is so radically different from the one before it, and each comes with its own new set of new alarming features, that there's really no way to get into a nice, comforting, nerve-soothing rhythym. For instance this time I was up there with two seasoned comedians plus the insanely poised and charismatic and comfortable and likeable Bob and Todd. And the show was held in a very "stand up"-style venue, with the low lights and the tables and drinks and the yelling. In other words it was terrifying, and terrifying in way totally different from the petrifying LA show, or the heart-stopping DC show, or the scary, scary first NY show.
So aside from the nerve-twanginess of the show, and aside from suffering under the dark influences of a fairly terrible cold (contracted the very day before my flight out of town), and aside from the great many surprise thundershowers (which as a Californian I just can not get my head around … in these parts, if you look out the window spot solid blue skies, the entire day is 99.9% guaranteed not to require an umbrella, not so New York, you slippery, wet traitor!), and aside from an unexpected and embarrassing teenage-style "I'm a third wheel" sulk that I had while shopping with two of my oldest friends, Liz and Megan (context: Liz and Megan are both beautiful blonde size super-smalls and we were at Century 21 and the two of them found bags and bags of cute things to buy whilst I bought zero because I fit into NOTHING, which was unfortunately followed directly by a yucky conflict between my desire of "I crave doughnuts" and their "we crave an invigorating workout at the gym," which, if I'm being honest with my jiggly self, is potentially related to the afore mentioned "not fitting into designer clothing" issue? In short: isn't it amazing how hanging out with friends from high school can sometimes make you feel young again, and not always in a great way?) … aside from all that, it was a very relaxing and delightful trip!
I finally did manage to find some cute clothes that fit me fine — a sale skirt and a sale top — plus two pairs of shoes and also some earrings. Also I got felt up by a Hasidic woman who then sold me six truly uplifting bras! And eventually my mouth and I did get the chance to pay my very favorite Doughnut Plant a visit (the coconut cream special was brain-bendingly tasty). And, once I got over my snit (and the ensuing horror over the fact that I, at thirty-six years of age, am still totally capable of irrational snits), I had a truly lovely time at my miniscule high school reunion: the three of us got in lots of walking and shopping and coffee and wine and heart-to-hearting and outfit-trying-on-ing; and together we invented a new term, the "blond spot," as in "Wait, what? Butros Butros-Ghali is no longer the United Nations' Secretary-General? Oh. Well. I do have a bit of a blond spot when it comes to political leaders." And later Paul treated me to a new restaurant, Knife and Fork, where I enjoyed a very long and rich meal and managed to resist showing the waitstaff my thematically appropriate tattoo, which I view as encouraging evidence of my budding maturity; younger Evany was a huge fan of forcing my commonalities on barely willing participants: "Hey, thanks for the [buttered popcorn/double-tall latte/nuclear iced tea] I really appreciate it because I TOO USED TO WORK AT [A MOVIE THEATER/STARBUCKS/RED ROBIN]!!" But wiser Evany, I'm thrilled to report, is capable of keeping her trap shut and her tattoo in her pants. The snit thing, however, is still a work in progress.
Oh and Jeffrey conveniently turned forty while I was there, and I got to celebrate it over a beautiful, bountiful meal prepared by his sassy, shoe-gifted girlfriend Teva. (Did you know that there are no cabs in Brooklyn? That you have to locate some weird little man in a glass box and request a ride, and then three minutes later a dark, unmarked car pulls up at the curb and you hop blithely in, and then, after haggling up a price, you drive off with some strange man who doesn't really know the area and you get lost and lost and lost? Well, that's what happens.)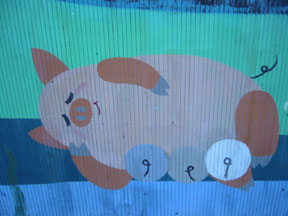 Chinatown pig (with piglets).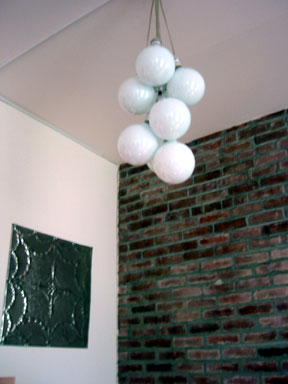 Tall, blond, gorgeous Megan designed and built her own light fixtures, see!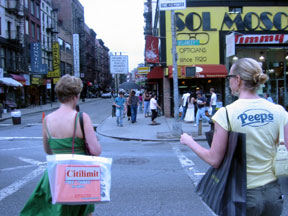 Shopping, walking, walking, shopping.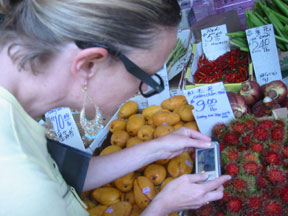 Megan, snapped while snapping photos of unusual fruits.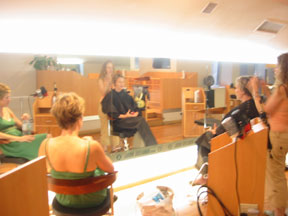 Megan, getting all her hair sliced off, with Liz (also tall, blond, gorgeous) watching on.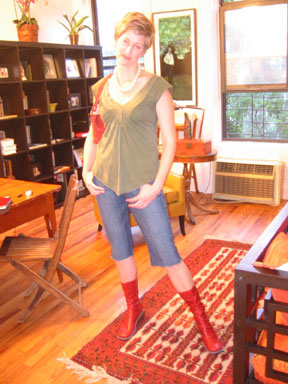 Liz shows off her new New York fashions.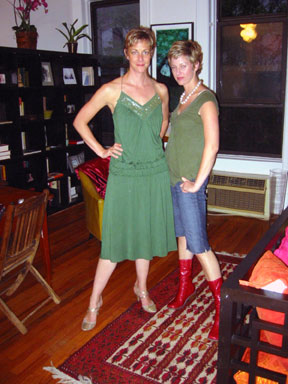 Megan and Liz show off their new New York fashions.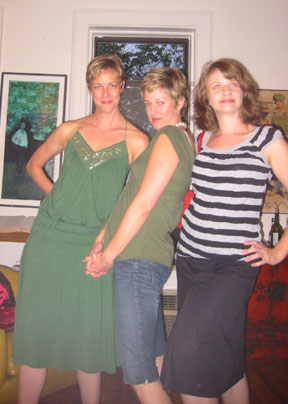 Megan, Liz, and I show off our new New York fashions.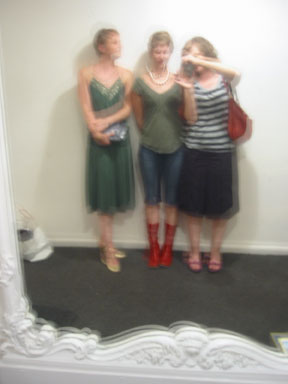 One last preview in the mirror in the lobby of Megan's fifth floor walkup. (Spot a spot? Run into a run? Live with it, sister! because unless you like lost six buttons and your nipples are hanging out or you forgot to wear pants, there is no WAY you're going back up those stairs.)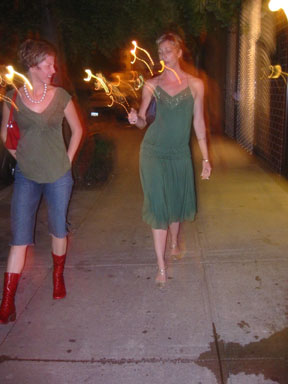 Walking the streets, full of red, red wine.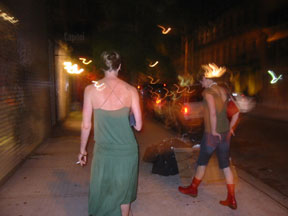 More street-walking.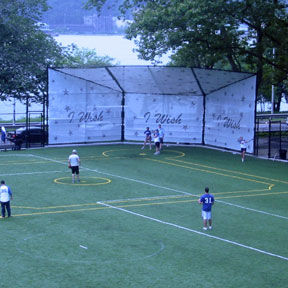 I wish, I wish, I wish-ing at that park along the river (where a dog deliberately covered me with a fine shake of pungent dog water).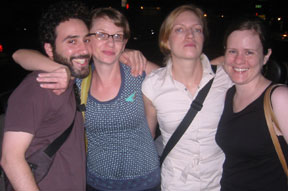 After the How To Kick People show, with Todd, Caroline, and Kathy!

(And here is where I was going to include the photo I took that same night of Todd and the awesomely talented (writing AND photographing, not at all fair) Lisa, but I seem to have captured the split-split-second that these two didn't look glorious all night, my camera is such a villan.)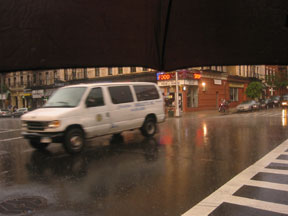 Rain, rain, rain, thunder, lightening, rain…in JULY, madness.

So! That was New York. I flew home and got back super late on Sunday, and then, THEN, the very next day, Marco talked us all into going to the Marin County Fair to go see Joan Jett. See?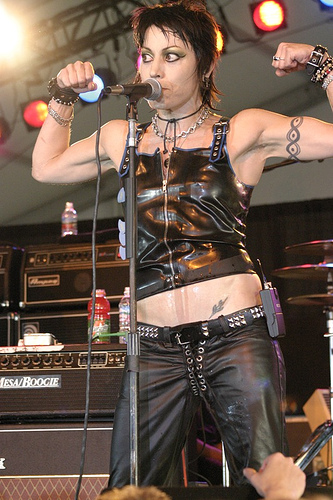 Is Joan Jett suddenly now yogi Madonna's body double? Or maybe vice versa.
(Photo swiped from the Marco: for more amazing shots of the sweating Jett, visit Marco's Flickr island.)
PS: Did you catch that, I'm now thirty-six? It's true, it happened on June 19th. And to celebrate, the searing Sunny took Leisa, Jeff, Caroleen, Liz, Ivan, Jill, Halliday, and Marco, she took us ALL out for dinner at Asia SF, and then everyone chipped in to get me a snootful of girly pink drinks, which went very well with the girly girls dancing along the bar. My favorite: the sassy sarsaparilla who came out in in a baggy orange jumpsuit and danced around to "Car Wash," while snapping a towel, then — at the half-way point — she tore away the jumpsuit to reveal hot jeans and hot halter top, at which point both bartenders turned their drink guns in her direction and soaked her with sodawater. Happy birthday indeed.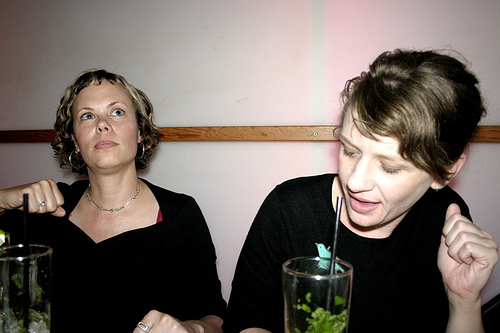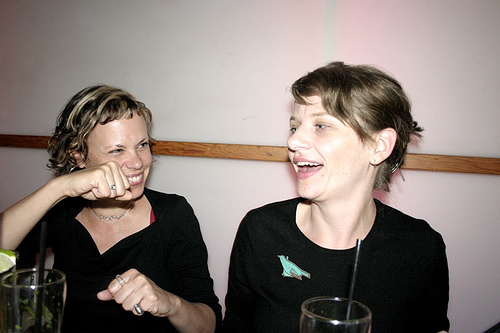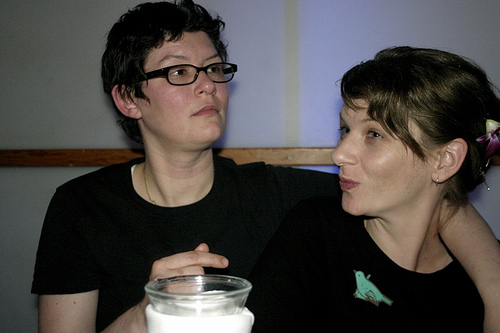 (Yeah, again with Marco's pics. And there's more!)

PPS: Marco, Tom, and I went to the beach today, down in Pacifica (so Marco could try out his NEW LONG BOARD and also NEW WETSUIT), and I managed to sunburn my right calf beyond all reason. Also, I've been in a foul temper all day, an eight-hour crabbiness to match my crab-red leg, yay. Meanwhile: Did you know that they shit in the refried beans at the Taco Bell in Pacifica? That's what they say.
More words on:
my friends do the greatest things | high school | pals