Saturday, mar. 15, 2008 | 0 comments
I don't know a whole lot about embroidery, but I had some tee-shirts that needed some serious cuting up, so I just kind of went for it.
This first one I made for baby Rex. My GOD, have you tried shopping for baby boy clothes recently? The stuff for girls is obscenely cute, but the selection for boys is just dismal. It's nothing but depressing, dull forest greens and navy blues, and everything's done up to look like sporting uniforms.
I'm pretty sure Rex likes birds, so I just got as plain a top as I could find at Old Navy for like three dollars and then birded it up.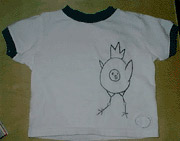 This was my first attempt at stitching and it's pretty lame. Sorry Rex. That ghostly thing in the lower right-hand corner is supposed to be an egg and it's there to cover up the ubiquitous Old Navy logo. I made it by stitching down an egg-shaped piece of hem I cut off one of my old tee-shirts.
I needed (a lot) more practice, so I decided to make myself my own birtee: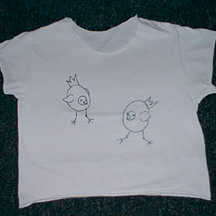 This time I inked on the birds using a sharpie. I stopped embroidering after I finished the baby blue chick and just left the sharpie birdie as-is because I feared things were starting to look a little too country cutsie. See what I mean?