Monday, may. 19, 2008 | 0 comments
I am, generally speaking, a gigantically huge fan of eBay. (Some may even say unhealthily so? What with my 96 positive feedbacks, wow?). But the times I love eBay the most are when it allows me to reconnect with items that I've fallen hard for elsewhere but never thought I'd be lucky enough to get my own hot, stumpy hands on.
My top three such love re-connections are, in descending order:
3. The Technicolor Bird Tray
I so admired this Deka bird tray when the Thrift Store Addict landed it on one of his miracle St. Paul thrift-a-thons. In truth, I was a even a wee sick-green with the jealous? But thanks to his lovingly detailed description (he's always so good about listing, if at all possible, the maker behind each of his purchases), I was able to turn to eBay, type in the key details, and there it was!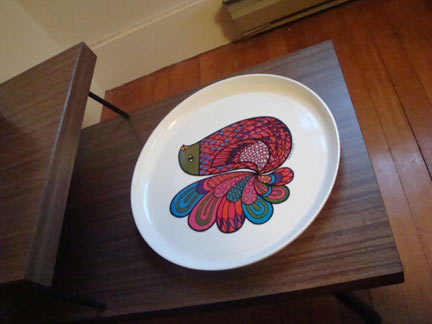 2. The Technicolor Dream Dress
This BCBG Max Azria dress was listed for a very long time at Bluefly for a mean price of over $400. Ridiculous! And yet I was still sorely tempted to Add to Shopping Cart. But before I could give in to the heady lack of oxygen in that sky-high price tag, I took a peek for the dress on eBay, and lo: my second all-time greatest eBay triumph!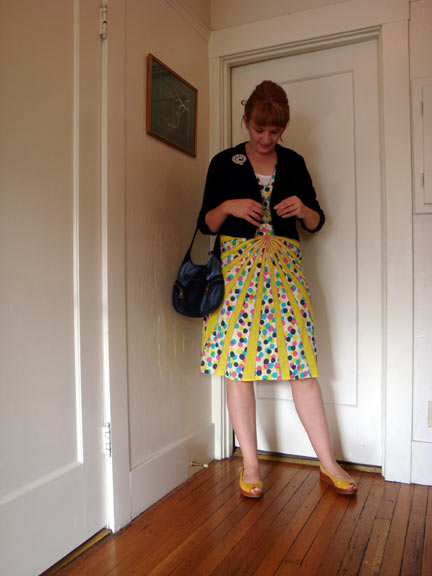 1. The Insane Miniature Aluminum Briefcase
Ten long years ago, I wandered in to a boutique in LA, one of those crazy high-end places where you have to ring the doorbell before you're allowed in to even shop inside? And tucked between all the jewels and finery, there it was: The Insane Miniature Aluminum Briefcase. I fell in love on sight and bought it so hard for, I think, a whole $22. And I then proceeded to bring it with me everywhere, from brunch to business meetings, where I would, with much seriousness, whip it out and snap it open like it contained documents of the very highest importance. In fact I whipped and snapped it so frequently that over time the hinges broke off. And then the locks. All the kings horses and men and I tried to glue things back together, but it kept on breaking, and soon I was reduced to the indignity of wrapping rubber bands around the its mini waist, thereby killing the visual awesomeness of it all. Finally, and which much sadness, I put the insane miniature aluminum briefcase out to pasture. But I still spoke of it fondly, pausing over drinks with friends to reminisce over the good times we had with that insane mini aluminum briefcase.
And then one day I had the bright idea to search for a replacement on eBay. It took some work to come up with the right combination of search terms ("small, metal, cardcase, snaps, awesome"? "card holder, briefcase, impossibly small"?. And then…Eureka.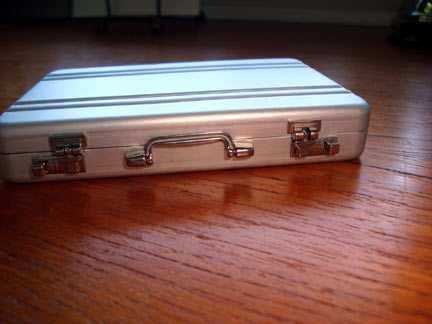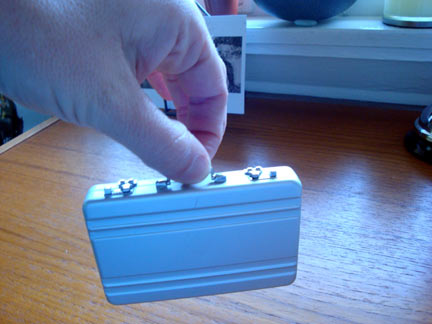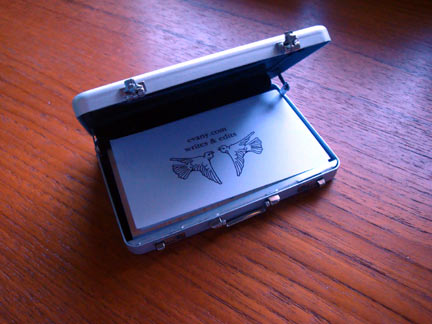 Isn't it perfect(ly insane)? Lucky for you, there's plenty more where that came from.