Saturday, mar. 15, 2008 | 0 comments
Inspired by my friend
Jessica
, who crocheted up a flock of little green trees as favors at her December-time party, I crafted up some of my own to hand out as gifts for Christmas 2006: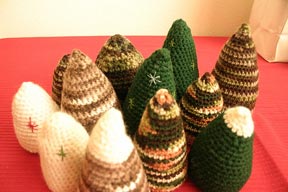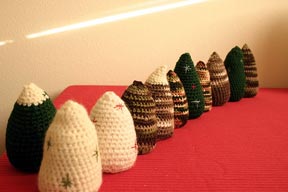 (All photos by Marco!)
My crocheting skills are basically non-existent, but even so these trees are embarrassingly simple to build: just a circle for the base (I start with center of four chain stitches, then I just go around and around using enough intermittent increases in each round to keep the circle flat, and then I just stop the increases whenever I feel like I'm done building out and ready to build up), which is reinforced by a piece of cardboard (I traced mine off of the lid of a honey jar), then lots and lots of straight-up circling followed by gradual, eyeball-guided decreasing. And right before you close up shop at the tip, you cram that thing as full as you can with polyfill.
Some trees I decorated with embroidered stars, others I outfitted with a cap of snow by switching to white yarn for the last few layers. The results were very cute, and they really chomped up the many driving hours between Oakland and San Diego, nice.