Sunday, apr. 20, 2008 | 0 comments
One of my all-time favorite Onion headlines is "Want Boxes Of Shit In Your House? Get A Cat," a sentiment that I know gnawed at tidy Marco just a wee bit when we first started talking about moving in together. Where, exactly, would Marbles' dumping grounds live?
I'm a big fan of putting littterboxes in bathrooms, since they make thematic sense there. But the bathroom in this place is kind of an open book, with no nooks or available corners to tuck a box into. And the limited closet space is already dedicated to clothing, and who wants to smoke out their clothes with shit and piss fumes?
Ultimately we decided to put her box in the strange auxiliary cabinet that lives on the outer side of the breakfast bar.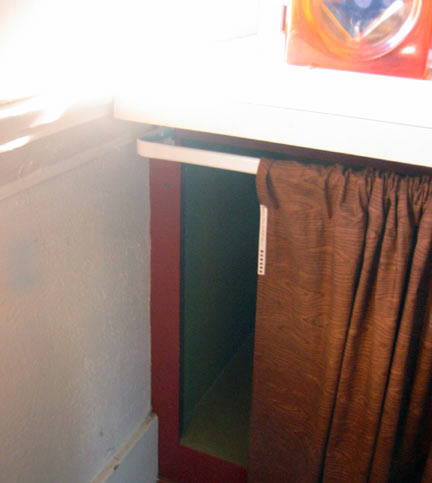 Marco removed the door that was there and painted the inside an upbeat puce-y color, and I sewed up a little curtain using a fun woodgrain fabric I found on the internet.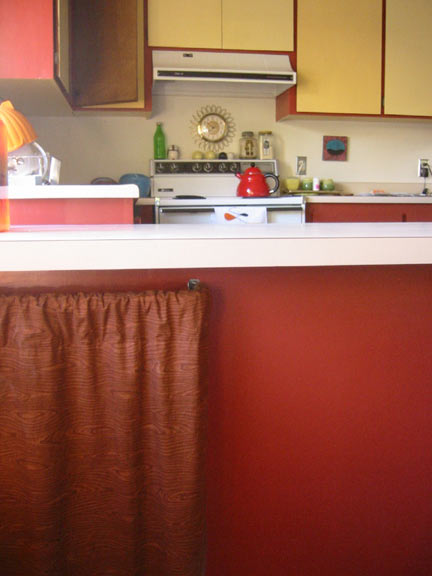 And it kind of turned out okay! We use the miracle crystal litter (NOT the ball bearing kind), which sponges up the smell quite nicely so you almost don't know the shitbox is in the room at all unless Marbles is actively mixing and scratching in there, something she likes to do for a good five minutes at a stretch.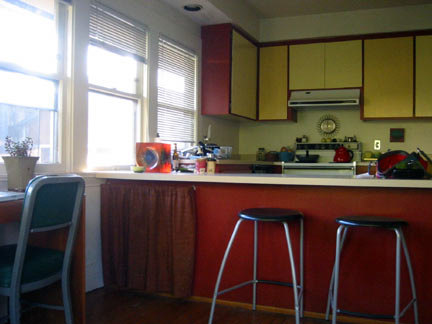 But recently we've been talking about maybe converting the back room—which is now set up as a sort of second living room, with a couch and some chairs and my desk scenario—into an actual dining room, which may or may not help us break out of our bad habit of eating in front of the television. But if we do decide to refocus that area on serving food, I'm not so sure I want to have the shit where we eat?
So I've started doing some peering around at alternate strategies, scouring the design-focused sites for some examples of other people's solutions for the problem. But there's a surprisingly limited selection out there! Which I don't really get—surely we're not the only people who like having a cute-looking house but who also have an indoor cat? (And yes the whole feline toilet-training thing has been tried, but had to be abandoned after it triggered some nasty side effects along the lines of Marbles shitting up the bathtub, a fun habit that took years to break her of, yay.)
I did manage to find a few semi-interesting options (thanks Mosaic Maker)…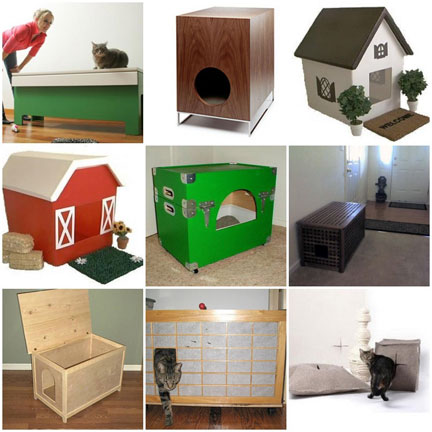 1. The Kattbank (via Design*Sponge, of course) is very pretty, and it comes in a satisfying array of colors, but at a whopping $1750, my sphincter says what? Also, do our friends want to sit atop a bench packed with feces? Don't answer.
2. The Scandinavians sure know how to do meatballs, and also cat shitters. Meet the handsome Dog and Cat Cave (via Modern Cat, who knew?). Cost: a steep $480. Also I'm now thinking it's not actually meant for litter, since there's no way to get the shit out of there, which seems kind of key…hmm.
3. The Cottage Litter Box House, just $65. I kind of love the idea behind this, but I'd want to push it even further, with more ornate, Made With Love By Hannah-style detailing. Like a giant coo coo clock, or gingerbread house, only with shit inside!
4. I'm also weirdly attracted to the Red Barn Litter Box House option, also $65, though heads-up: "haystacks and sunflower pot not included," which is a disclaimer I'm considering adding to my signature file at work.
5. Sara's DIY wheel-away litter box (via Ikea Hacker), made from Ikea Snack Boxes.
6. Or Dee's DIY kitty litter hideaway (same link as above, just scroll down) made using the Ikea Hol.
7. Dave's Handcrafted Litter Box Hiders (via Apartment Therapy), $129.99. Dave makes these to order, and they arrive fully built, sanded, and ready to paint. Best of all, they're "dog proof so they cant get to the litter and eat it."
8. DIY Shoji Litter Box (via Apartment Therapy), another serviceable option.
9. Marly Gomman's "Cats in Style" felt litter box (via Modern Cat), which you can actually watch in action. I LOVE this option, and really: a big, organically shaped felt box that mimics the birthing process with each exit, what's not to love? But unfortunately even if I did have the millions of dollars it surely costs, I can't seem to find it for sale anywhere, anyway.
And then there's also the "Hide-in-plain-site" DIY cabinet, or the weird fake plant holder with hidden compartment, or the Merry Pet Cat Washroom, none of which are exactly quite right either. Shit.