Sunday, mar. 18, 2007 | 0 comments
Things have been gloriously busy in both my life and head these past weeks. To give you an idea of just how much of a liar I'm not about this, here's a little glimpse at my schedule from last weekend:
9am Saturday: Wake up, do some gentle puttering and coffeeing in my delicious cashmere robe.
Noon: Marilyn (in town all the way from Boston) and I hit the dog-friendly Redwood Park for a thigh-shaking nine-mile hike with Pigstar.
4pm to 5:15pm: Frantic showering and outfit-fussing.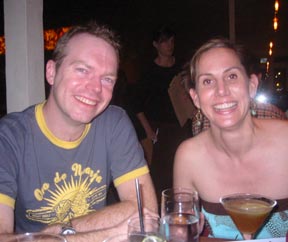 6pm: Marilyn, Marco, and I join Liz, Ivan, Heidi, and Paul for a delicious dinner at COCO500, wherein much pink wine is consumed (by me), mini crowns are doffed, three different cameras are flashed, and the conversation lurches from Beaches to the Dutch East India Company with lusty (if ignorant) verve.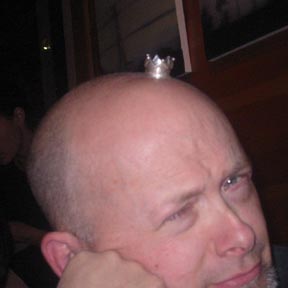 8pm: Heidi, Paul, Marilyn, Marco, and I pile into the brown, brown Marco-mobile, new home of the mysterious authentic ali-croc head, and putt on over to the Grey Area Gallery, where the opening friend Annie was so fired up about is being held, and where I ogle the find arts (Amy Ruppel's beeswax/resin painting/collages are even more lux in person, hoo!), talk to one of the gallery owners about her most excellent Proenza Schouler for Target top, and (eek!) forget to tip the bartender (oh how I woke the next morning full of panicked regret over this!).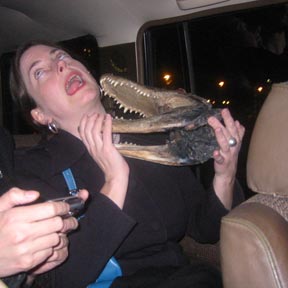 9pm: We all leap back into the car and head back to SOMA, to the Utah, where my friend-from-grad-school Buzz reads from his brand new book, Madonna of the Toast, and where I am so happy to run into friend Kirsten, it's been too long! Bands play, multiple readers read, and finally…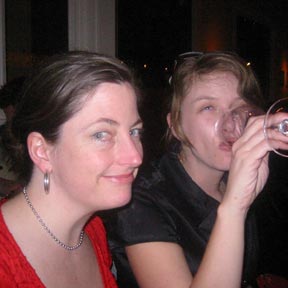 Midnight: …Marilyn, Marco, and I head back to our place, where we tuck Marilyn into the couch and shuffle off to buffalo (bed).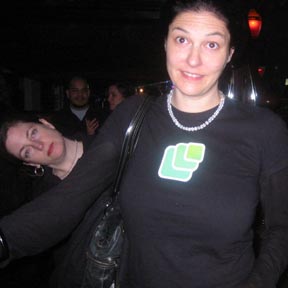 9:30am Sunday: Already well coffeed and yogurt-fed, Marilyn packs up her rental car and heads off to the airport — bye, Marilyn, we'll miss you! — and Marco, Sandra, Pigstar, and I roll off to Pacifica, where Marco surfs, Sandra and I fondle sea anemones, and Piggy runs and runs.
11:30am: Marco, Sandra, and I brunch it up on an insane three-way split of hash, olallieberry crepes, and a towering Rueben, jesus christ!
2:30pm: Drop off Sandra and head home.
3-4pm: Power nap.
4:30pm: Drive to San Jose.
5:30pm: SHARKS ON THE POWERPLAY!
7:30pm: Drive home.
8:30pm: (Without, of course, neglecting to stop at In-N-Out for a burger animal style, which I always mistakenly refer to as "Monster Style," much to everyone's mirth and confusion.)
9:30pm: Home again, home again, only barely conscious enough to brush our teeth and hobble to bed.
5am Monday: The alarm blares…