Saturday, mar. 15, 2008 | 0 comments
I don't know if buy my pants too low and my shirts too short or I simply have an unusually long torso, but more often than not, my pants-based outfits leave me with a strip of Evany-tummy twisting in the wind. I used to safety-pin my shirts to my belt loops, which kind of worked but made restroom breaks time-consuming and pointedly hazardous. But then I came up with this really good invention: The Go-Between! Just look: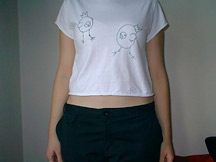 Brrrr! It's cold in here!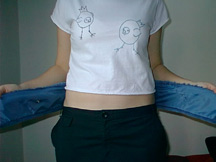 Getting warmer ...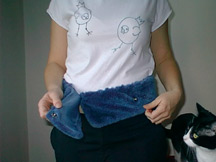 ... warmer ...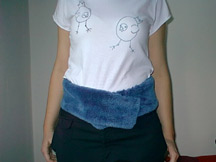 ... now that's hot.
(Note: That there's the Birtee.)
I made this grover-fur go-between using a thread-through neck scarf I bought at Old Navy years ago. I simply stitched up the thread hole, trimmed the width a bit, hemmed it, and added a few sturdy snaps. I even had enough fabric left over for a weird, wormy little neck-tie thing: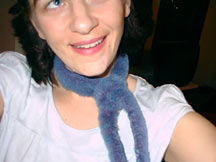 I made a second go-between using an old tee-shirt that I'd accidentally ruined by washing with a red splotching item. I didn't even sew anything, just trimmed off the bottom,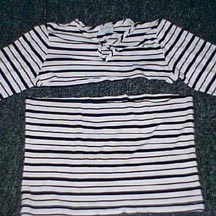 folded it under to hide the red stains (which for some reason you can't see here),
and voi-da!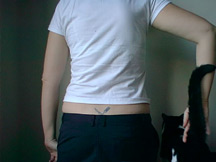 Before: Uh-oh. Somebody's got ass-crack fever
(and I'm not talking about Marbles the Cat).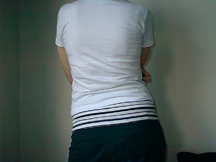 After: The the jukebox is officially out of order!

Let's take a closer look at that go-between in action
(hey, isn't that one of my beloved cockeyed.com tops?):